Gift Box (by snail mail) & Gift Voucher (by e-mail)
1. The Gift Box - to surprise your loved one with the 21 hour Love Bubble Xperience
Does your lover or your dear friends still know nothing, is it a surprise? Complete this surprise with this Gift Box. Step by step this treasure chest leads you to the gift and the answer to the question that it is all about: "Do you want to stay with me (or do you want to spend together) 21 hours in a Love Bubble?"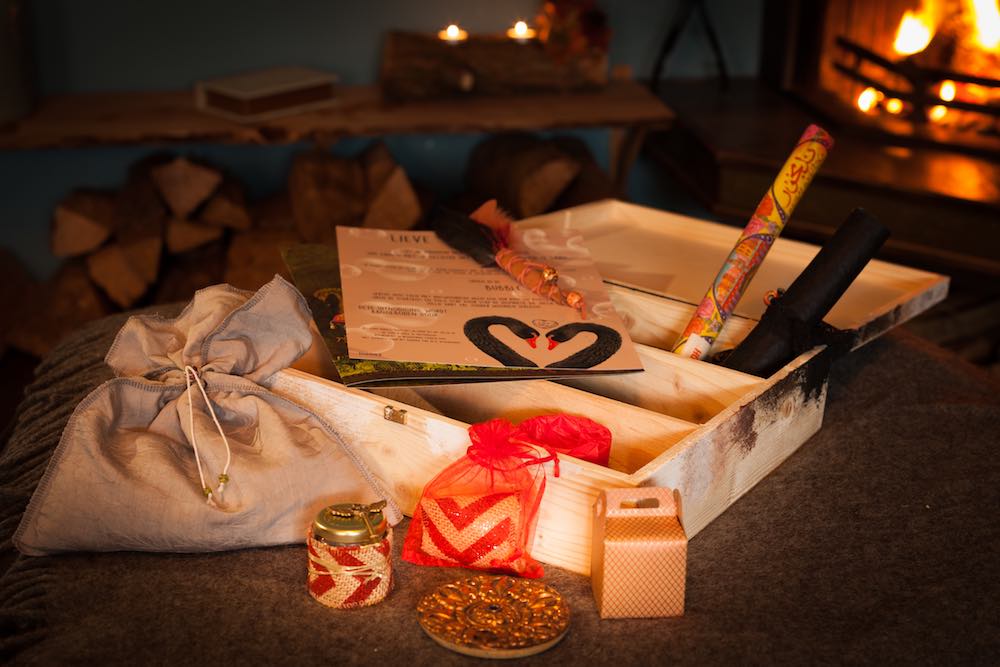 Content: all the ingredients for it Let's celebrate our love - ritual to invite your beloved or dear friends (talcum powder and feather, a love candle of selenite, incense with holder, chocolate, tea flower, explanation of the ritual and of course the Gift Voucher and the key to the Love Bubble!)
Pricing 69 euros, excluding shipping costs and the value of the voucher for the stay.

How to order Send a This email address is being protected from spambots. You need JavaScript enabled to view it. with the address of the recipient and we ensure that this treasure chest full of love is delivered super-fast!
2. The Gift Voucher - lightning fast and festive!
Do you not have that much time, do not feel like fuss and do you want to surprise your loved one or another sweetheart with an invitation to stay at the Love Bubble? Especially for this occasion we have a nice digital voucher (completely free). You can determine the value yourself (from 100 euros).
How to order Send a This email address is being protected from spambots. You need JavaScript enabled to view it.with the value you want to assign, the first names of the recipient (s) and giver (s) and any congratulations or heart's desire. We will then send you a payment request. Once you have met this, you will receive the digital check packed with love in your mailbox.